3rd September
Yesterday saw the younger ones competing at the Iain MacFadyen Memorial Gala at Prestonpans.  Now I know we are really just back into training after Summer break so we were looking to use the times as a gauge for progressing training.  As usual this lot just continue to exceed our expectations.  We are so proud of each and every one of them.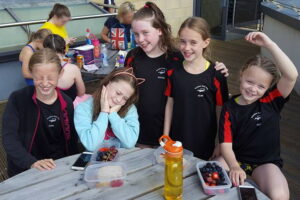 Some of the merry band! (with very healthy lunches)
31st August
Saturday sees us at Prestonpans for the Iain MacFadyen Meet – please be on poolside for 8:50am to be ready for warm up
13th August
Well if the first training session back is anything to go by you have all had a great summer and seem well up for a bit of swimming!
4th August
All too soon the new swimming season will be upon us.
We will have some changes to swimmers in lanes due to our 2 oldest boys moving on to University and Work.
They will be sorely missed as they have both been with us for around 8 years. We wish them well in whatever they do now and in the future.
we will also have some new swimmers joining us so please make them feel welcome (as we know you will)